How to Make your own Gramophone Record Sleeves
You can't buy ready-made paper ones in Australia. there are some good ones in the US, but the freight makes them too expensive.
Below, how I made my own. Works out at about 30c each. (all prices as at Feb 19) I had 500 to do, so had to work out a system!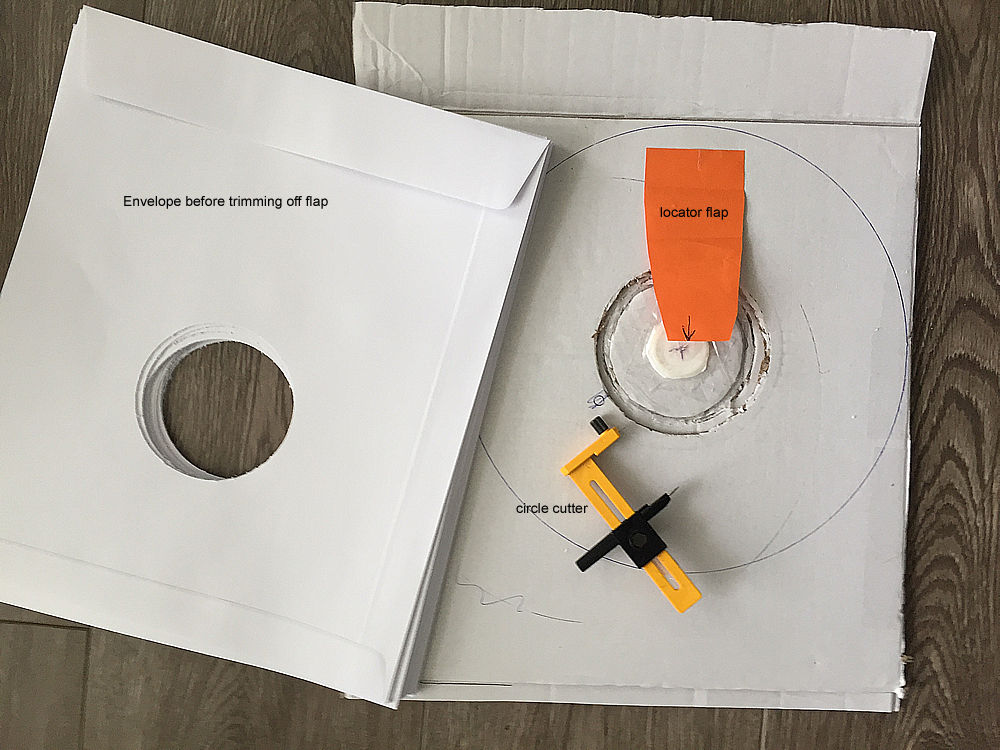 You will need
Circle cutter - OLFA Compass Circle Cutter(CMP-1) / Up to 6 inch. $16 inc freight on eBay from seller in Korea allaview8979. Comes with extra blades
Paper punch 3.8cm Circle Round Scrapbooking Tool. Punches the hole for your thumb on the side of the sleeve. $10 + $7 freight on ebay from seller yadup-10. Try the $2 shops, or Spotlight- look in the papercraft or scrapbooking section
Paper guillotine- you can get them from around $25 on eBay (free postage). $22 trimmer at Officeworks- product code OWTRIM30CM
Box 250 envelopes- from Office National - $70 inc delivery Code 620410 X-ray Pocket 267x318mm ungummed

Make a template to hold the envelope, and cut the centre circle
Using 2 sheets of cardboard (box thickness) and a juice bottle lid!
* Lay an old record on the corner, mark out the centre on the cardboard.
* Cut a circle 5mm too big out of the cardboard at that spot.
* Now trim that circle by 1 cm, sissors is OK, its width is not critical.
* Line up the second piece of cardboard as a base for the larger cut-out piece. sticky tape them together on one side only so it forms a hinge. This will be the backstop for placing the envelope in the right place.
* Glue or sticky tape the circle piece into the centre. You should now have a "valley" or recess where the compass circle cutter will spin.
* Cut the sides off the plastic bottle lid, so you are left with just the flat round section. Glue or tape it to the middle of the circle. This is where the centre spike will go. You need something made of hard plastic, so the spike doesn't tear it away.
* Find and mark the centre of it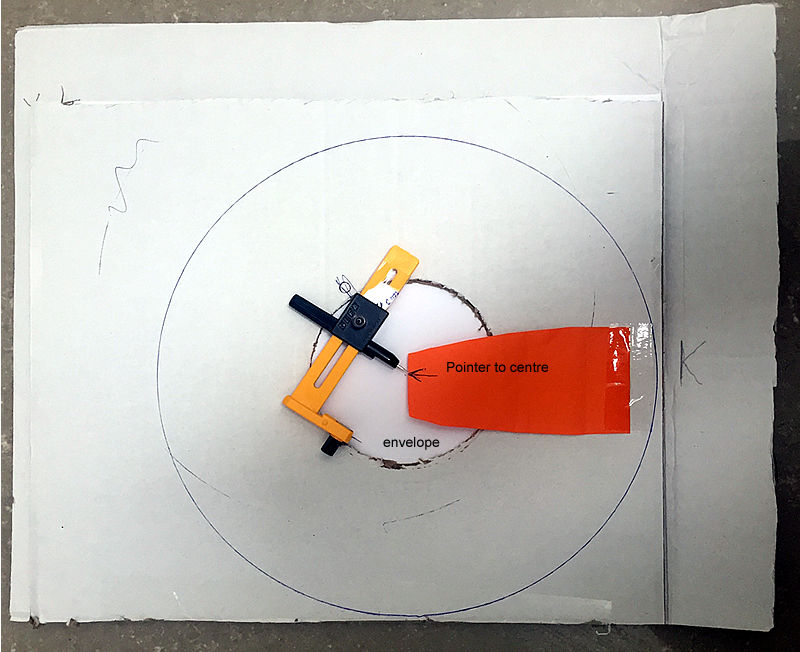 If you put an envelope in, and line it up, you'll no longer be able to see the centre. So to line up where the centre spike should go down, cut and stick a pointer- see picture above. You flip the paper pointer away while you cut the circle out.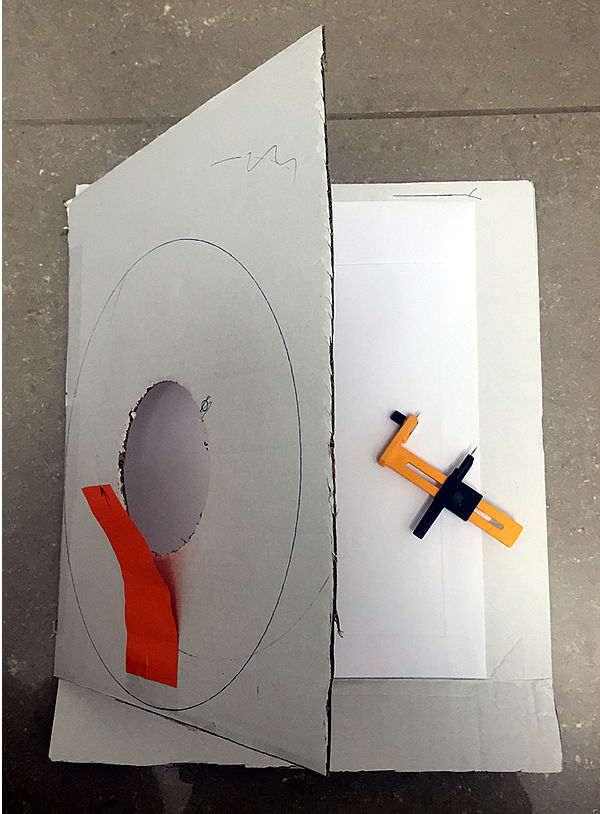 So, its a three stage process.
Use the cardboard template to cut the circle,
guillotine off the flap,
use the circle punch to cut a semi-circle thumb opening.
I usually find I can do 20 at a time in each stage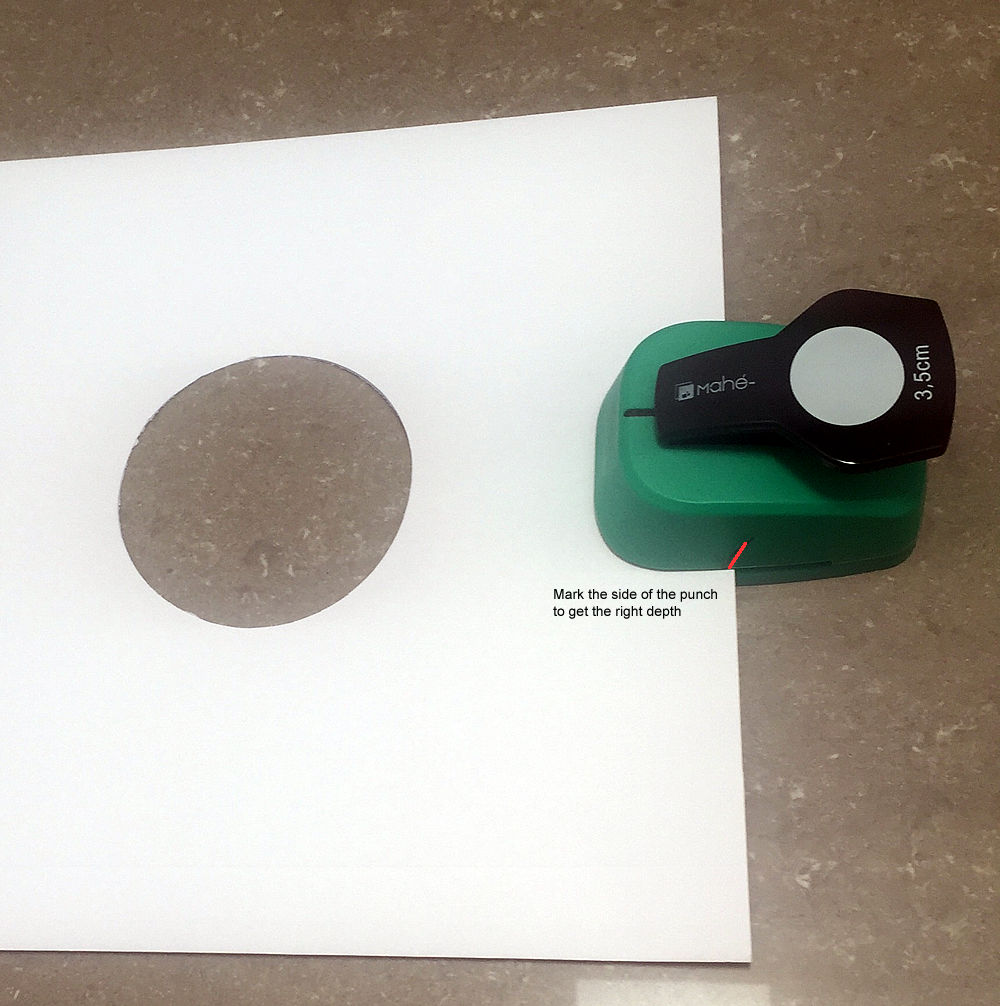 Copyright: John Carmichael Feb 2019 Australia